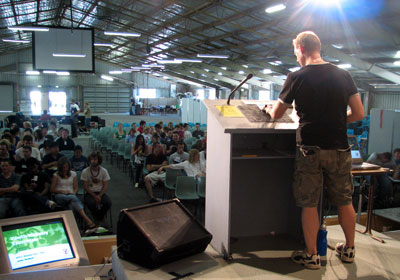 Today I trekked up the mountain again to Katoomba for another big afternoon of youth ministry training at KYLC.
As has been the pattern of my Januaries since 2001, I took the 200 plus first-time delegates through a 90 minute summary of my 'Dual Action' material, under the headings of Foundations, Fun, Focus and Fishing. And as always, I found it difficult to squeeze it down to 90 mins…but I came close!
It is exciting to know that the content of my material is now starting to stabilise. Although there have been a few tweaks, the heart of the training is very similar to that of last year, and to a large extent, the year before. Hopefully this means I should be able to finally start writing that book on youth ministry in 2007.
More training will happen next week with a repeat performance at KYLC, and then down to LiT the next day for more workshops on Youth Ministry.
« Sylvania Slice Summer Camp 2007 Year 13 Growing and Growing! »