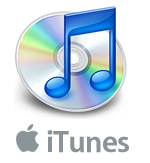 I've finally got around to hooking up with iTunes to produce a podcast.
To listen to my latest Bible talks and ministry training, subscribe to my Podcast at iTunes. It's free!
Or, you can subscribe using the URL www.jodiemcneill.com/podcast if you use a different method.
Special thanks to MightySeek for providing the excellent podPress WordPress plugin that makes all this podcasting work so seamlessly.
« Luke 23 Sermon – The Great Injustice Acts 1:1-11 Sermon – Waiting for the Kingdom »