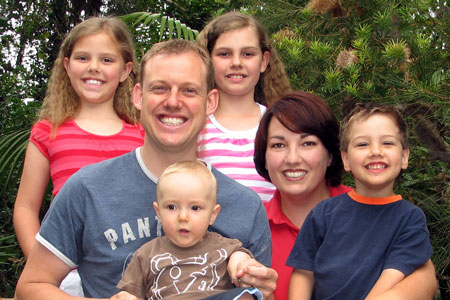 Jodie has had a great year at work, launching and leading the new Youthworks 'Year 13' program. He keeps wishing it was around when he was 18, so that he could've avoided making his mistakes as a very young adult. He also keeps training people in youth ministry, organising the TWIST conference, and doing youth ministry and music at our church at Sylvania Anglican.  And last, but certainly not least, he loves relaxing with family and friends, usually with coffee in hand!
Mandy has been a busy mum, running a household of  three kids plus Hugo, our newborn (13 May 06.) She leads the 'WOW' (Women on Wednesday') Bible study, and co-leads the youth with Jodie. As 'Chief of Staff' in the McNeill household, she continues to avidly watch 'The West Wing' for tips on how to keep the President in line.
Liana (9 in January) has entered the 'Tweens,' and seems only days away from adolescence. She loves to sing, dance and talk (frequently all at once) and would love a pony if she could somehow sneak one into her bedroom.
Jemimah (8 in February) is loving school, and continues to keep up with her older sister in many ways. She shares the family love of music, but has developed an uncharacteristic love of maths (drawing upon talents previously undiscovered in our DNA.)
Oscar (4 in January) loves anything with wheels. He plays with his cars 24/7, and only pauses when he stops to watch his favourite DVD…yes, 'Cars!' He loves preschool and continues to be a testament to the difference testosterone makes in a growing child.
Hugo (8 months) is a 'mini-me' version of Jodie…permanent smile, blonde hair, and an attention span that should keep the makers of Ritalin in business for years. Despite a few respiratory illnesses, he keeps smiling, and smiling…
2006 has been a great year for the McNeills. We have settled in well to our new house in Sylvania (yes, 'The Shire!') and are continuing to love our church, job, and spending time with our friends and family, both new and old. We are thankful to God for our health, and for the ways in which he keeps sustaining us through the normal ups and downs of life. Overall, it has been a full-on year, with a new house, child, and job responsibilities for Jodie, which has made us feel a bit too frantic at times. But we look forward the opportunity to consolidate our roles and responsibilities in 2007 (i.e. less changes… yeah, right!)
To God be the glory!