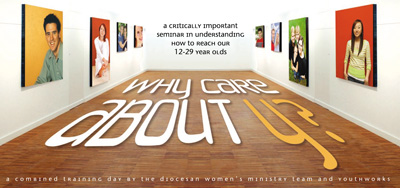 I'm speaking at the 'Why care about Y?' conference on 31 March on the topic of 'Reaching Gen Y.' As I've been researching the topic, I've been trying to work out the difference between culture and generation. We like to say that Gen Y are all technologically savvy, but so am I (and others older than me) who are Gen X (or even Boomers.)
It's interesting researching the range of opinions on the topic across the Internet. However, it reminds me again of the fact that ministry to God's people must be prepared to change style, but never substance; language, but never message.
Further details about the conference can be found at www.mac.edu.au It goes from 9.30am to 1pm, and costs $25. Greg Clarke will also be speaking.
« Class of 1994 Bible Study Reunion Congratulations to Mike Baird, MP »