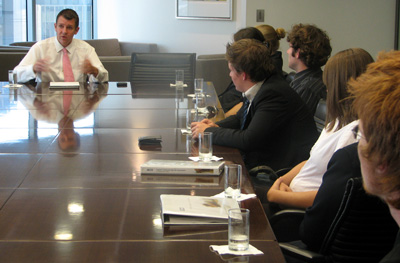 Mike Baird is the new MP for Manly, following his win in the NSW State Election on Saturday. I've known Mike for almost 20 years, from the time when we were both involved in the youth ministry at Christ Church St Ives Anglican, to the present. In fact, Kerryn Baird was one of Mandy's bridesmaids 15 years ago.
Late last year, Mike generously offered his time (and the board room of HSBC Bank) for the Year 13Â students when he talked about being a Christian in the corporate world.
I offer Mike my congratulations and prayers, knowing that parliament is not an easy gig for a Christian. However, I know that Mike is passionate about service, and parliament is a great opportunity to serve his constituents and colleagues as he follows the example of Jesus.